As autumn & winter approach, across the country thoughts will be on layering up. But what is needed to ensure you stay on top of your style through these months?
While many people will benefit from having an existing collection of 'classic autumn/winter pieces' that they will be bringing to the front of their wardrobe, here we'll take a look at the essential pieces to help style your way through the next few months….
Working our way top down, and layer-by-layer…
Coat –  Invest in your coats and they will last you a few years. Classic styles like a black or camel wool will be the best timeless addition to your wardrobe. Below we will look at some current options to keep you on trend.
2. Knitwear – Oversized knits are not only comfortable but easy to style. Whether that be with Jeans, Skirts, Trousers or even over dresses. Your new favourite this season to keep you right on trend " the cardigan" !!
3. Shirts – A white shirt it a wardrobe must have, opt for a slightly over sized one and you can roll up the sleeves to give you more shape and layer over trousers for an effortless outfit, whether that be jeans or smart cigarette styles. Mix up your options; perhaps a silky fabric to dress up jeans and keep the look smart, then a soft cotton one to wear comfortably and easily layer with your knitwear. Another key item we love this season is the leather shirt/ jacket, this can smarten up any tee and works well with cami tops for layering.
4. Trousers – A good quality pair of jeans and leather trousers are great investment pieces to add to the wardrobe. Also great for layering with shirts and knitwear.
5. Shoes – Boots are going to be your go to as we reach the wetter months. There are some great styles, opt for comfort and a style you know you will also be happy to wear next year too. A good quality leather boot will last you years! Black is a given classic but with the current trends and neutral palettes we've shown a few new cool options too. These can then co ordinate well with your wardrobe items.
Here's how to put it all together: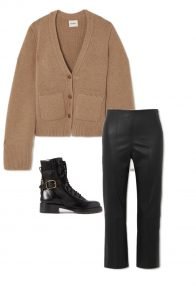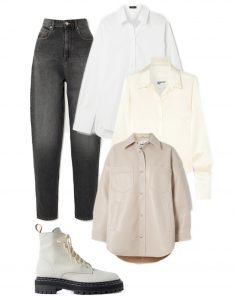 [Items: Cardigan, Khaite. Leather trousers, Theory. Black boots, Chloe. Black jeans, Isabel Marant. White shirt, Joseph. Cream shirt, Orseund Iris. Leather shirt, Nanushka. White boots, Proenza Schouler.]